Guide Map
Update:

Source:

Kaohsiung Rapid Transit Corporation

Views:

2383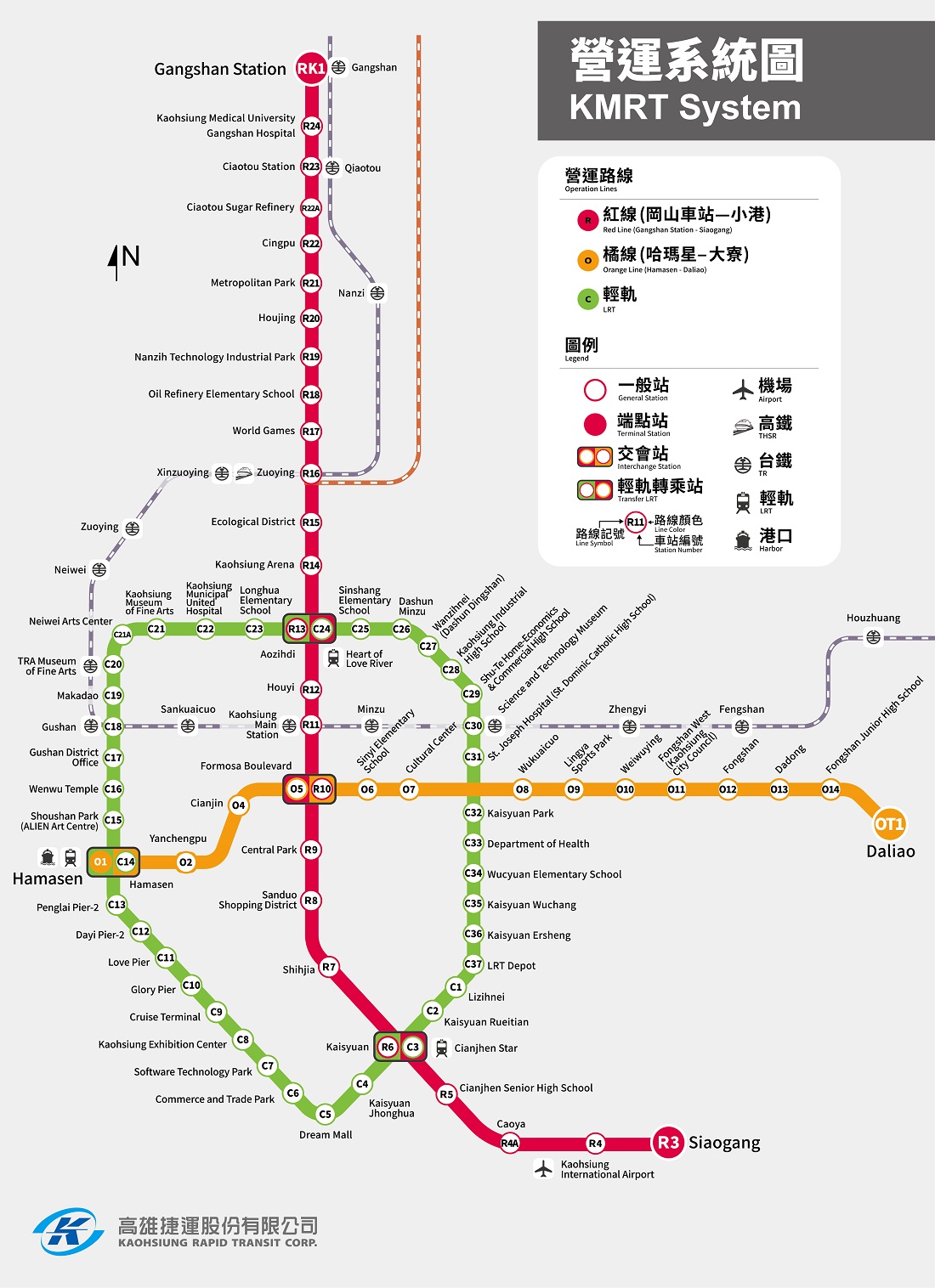 In the first phase of the light rail, the current trial operation range is from C1 Lizihnei Station to C14 Hamasen Station, and all stations on the way provide passengers to get on and off. For future information on the boarding, please refer to the latest News of the KRTC.
Red Line:R3 Siaogang、R4 Kaohsiung International Airport、R4A Caoya、R5 Cianjhen Senior High School (Wujia)、R6 Kaisyuan、R7 Shihjia (Labor Park)、R8 Sanduo Shopping District、R9 Central Park、R11 Kaohsiung Main Station、R12 Houyi (KMU)、R13 Aozihdi、R14 Kaohsiung Arena (Sanmion Household & Commercial High School)、R15 Ecological District、R16 Zuoying (THSR)、R17 World Games (National Sports Complex)、R18 Oil Refinery Elementary School (Guoguang Laboratory School, NSYSU)、R19 Nanzih Export Processing Zone、R20 Houjing、R21 Metropolitan Park、R22 Cingpu、R22A Ciaotou Sugar Refinery、R23 Ciaotou Station、R24 Gangshan South.
Orange Line:O1 Sizihwan (NSYSU)、O2 Yanchengpu、O4 City Council (Former Site)、R10/O5 Formosa Boulevard、O6 Sinyi Elementary School、O7 Cultural Center、O8 Wukuaicuo、O9 Martial Arts Stadium、O10 Weiwuying、O11 Fongshan West (Kaohsiung City Council)、O12 Fongshan、O13 Dadong、O14 Fongshan Junior High School、OT1 Daliao (Cianjhuang).
LRT:C1 Lizihnei、C2 Kaisyuan Rueitian、C3 Cianjhen Star、C4 Kaisyuan Jhonghua、C5 Dream Mall、C6 Commerce and Trade Park、C7 Software Technology Park、C8 Kaohsiung Exhibition Center、C9 Cruise Terminal、C10 Glory Pier、C11 Love Pier、C12 Dayi Pier-2、C13 Penglai Pier-2、C14 Hamasen.